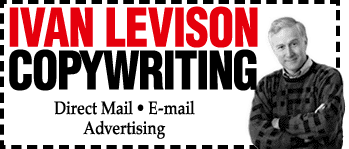 Hi. I'm a freelance copywriter who builds profits for forward-looking companies. In fact, I've spent over twenty-five years copywriting direct mail, email, advertising, and more, for industry leaders like Microsoft, Bank of America, Intel, Fireman's Fund, and Hewlett-Packard. And for a bunch of great small companies too. Want to find out how this experienced copywriter can work wonders for your bottom line? Scroll down and I'll be happy to show you!







Click Here to see back issues of The Levison Letter

Ivan Levison. Direct Mail, Email & Advertising Copywriting
14 Los Cerros Drive, Greenbrae, CA 94904
Phone (415) 461-0672 Fax: (415) 461-7738
E-mail: ivan@levison.com
© 2013, Ivan Levison & Associates. All rights reserved.


Copywriter | Copywriting | Direct Mail Marketing | Email Copywriting | Web Copywriting
Landing Page Copywriting | Freelance Copywriter | Marketing Letters | Sales Letters